About Our Hunts
We have a wide variety of Exotic deer and sheep for your hunting pleasure. Below is a list of the animals that we currently have roaming on the Ranch. If you do not see a species that you are interested in hunting on our list, please call and we will do our best to get that particular species on the ranch before your hunt begins.
Axis
Addax Antelope
American Bison
Barasingha
Blackbuck Antelope
Eland
Elk
Fallow- White and Spotted
Nilgai Antelope
Red Deer
Sika
Whitetail Deer
Wildebeest Antelope
Jacob 4 Horn Sheep
Aoudad
Barbado
Ibex-Alpine
Mouflon
Scimitar Oryx
Texas Dall
Special Exotics
Pere' David's
Red Lechwe Antelope
Watusi Cattle
Waterbuck
With the exception of the Whitetail deer, all exotics can be hunted year round. Each hunt will have a guide. You can use either a gun or bow, your choice.
Please call for prices for each hunt. The quote we give you will be the complete price for your hunt.
No hidden fees.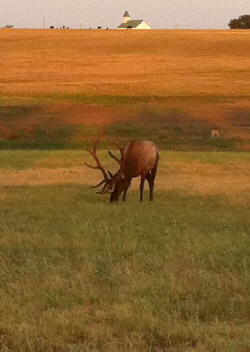 About our Deer
The pictures that you see were taken on the ranch. Our Bull Elks all score 360 and higher. Please check out our Photo Gallery page to see pictures of all the animals that we currently have on the Ranch.
Call today to reserve your spot to hunt in this new facility.
Guided Tours
We are now offering guided tours of the property to view all the different species of Deer, Antelope, Buffalo and Sheep. Best times for the tours is early morning and late afternoon. Cost is $35.00 for the first person and $10.00 for each additional person up to 5 people total. Your are guaranteed to see up to 75% of the 26 different species we currently have on the property. Gratuity not included.